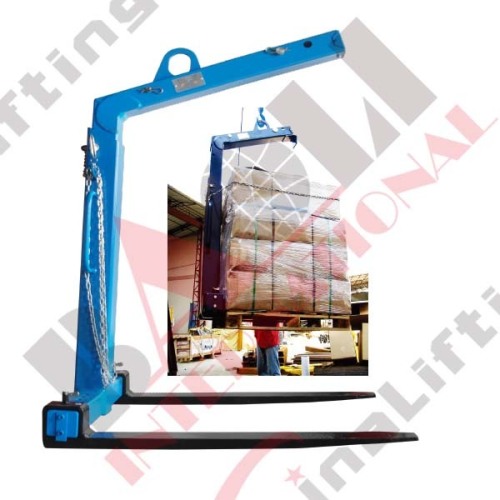 Two types of crane forks
Crane forks with manual weight balancer, the balancing system engages when the shackle is manually hooked into the appropriate notch.
Crane forks with automatic weight balancer, the automatic balancing system requires a minimum load limit. The load will always be in the center of gravity of the forks, ensuring a safe transport.
All crane forks are in conformity with Europe union safety standard, and have been manufactured in accordance with the machinery directive 98/37/EEC. Each unit is proof-tested 1.5 times of the rated load.

ITEM NO

type

WLL

Adjusting range of fork

Effective height

Length of fork

Fork cross section

Height

t

A(mm)

B(mm)

C(mm)

D(mm)

E(mm)

03231

A

1.0

350-900

1100

1000

100X30

1420

03232

1.5

350-900

1300

1000

100x40

1650

03233

2.0

400-900

1300

1000

120x40

1855

03234

3.0

450-900

1300

1000

120x50

1720

03235

5.0

530-1000

1300

1000

150X60

1710

03241

B

1.0

350-900

1100-1600

1000

100X30

1420-1920

03242

1.5

350-900

1300-2000

1000

100x40

1650-2350

03243

2.0

400-900

1300-2000

1000

120X40

1655-2355

03244

3.0

450-900

1300-2000

1000

120X50

1720-2420

03245

5.0

530-1000

1300-2000

1000

150X60

1710-2410