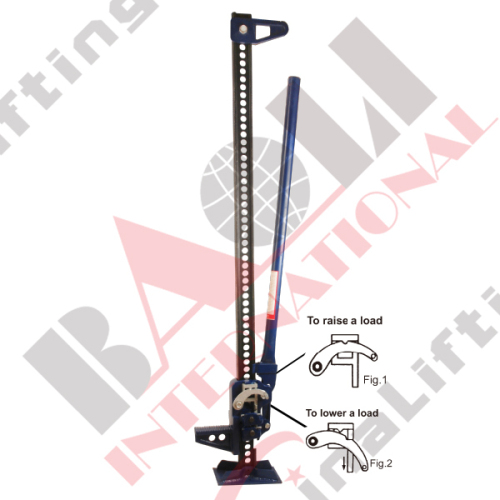 Construction, agriculture and industrial appli-
cation where long travel is required for lifting,
pulling, pushing or clamping.
Adjustable top bracket used for clamping.
Safety shear pin protects lifting nose and
dropping of load if jack is overloaded.
Load is supported when activated in either
direction.
3/4" lift with each handle stroke.
| | | | | | | |
| --- | --- | --- | --- | --- | --- | --- |
| ITEM NO. | Capacity | Size | A | B | C | D |
| 03060 | 3500kg | 33inch | 31-3/7" | 7" | 4" | 25-3/8" |
| 03061 | 3500kg | 48inch | 46" | 7" | 4" | 33-1/4" |
| 03062 | 3500kg | 60inch | 57" | 7" | 4" | 33-1/4" |