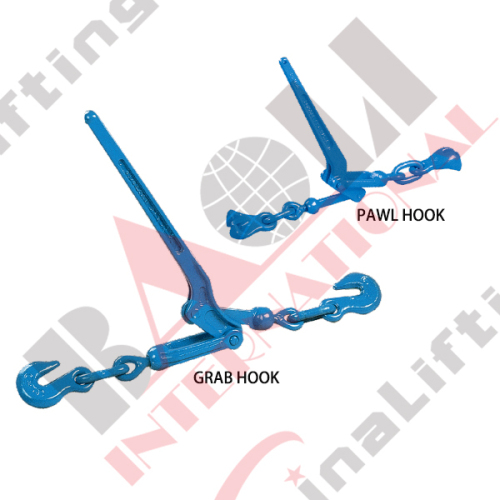 LEVER TYPE LOAD BINDER WITH GRAB HOOK 01363A 01364A Admin Edit
Safety,durability designed for all heavy duty transport use. (take up slack and apply tension to a tie down system)
Drop forged steel,high strength.
Free 360 degree swivel hooks for easier handling.
Heat treated for extra strength.
Extra heavy construction at leverage point to prevent spreading. eel of binder toggles away from load, permiting easy release.
Each binder individually proof tested.



LEVER TYPE LOAD BINDER WITH GRAB HOOK




















































ITEMNO

Min-MaxChain Size

W.L.L.

ProofLoad

Min.Ultimate Load

Weight/Each

HandleLength

Dimensions

in.

in

lbs

lbs

lbs

lbs

in

A

B

C

D

E

F

G

01362

1/4-5/16

2200

4400

7800

3.52

11.42

18.5

17.3

14.17

11.42

8.27

8.07

0.35

01363

5/16-3/8

5400

10800

19000

8.37

15.43

25.2

23.2

19.49

15.55

11.22

11.22

0.51

01364

3/8-1/2

9200

18400

28000

12.11

17.24

28.5

26.38

22.05

17.64

12.99

12.20

0.59

01365

1/2-5/8

11000

22000

44000

19.7

21.00

33.86

30.12

25.78

20.87

14.37

14.37

0.74
LEVER TYPE LOAD BINDER WITH PAWL HOOK




















































ITEMNO

Min-Max

Chain Size

W.L.L.

Proof

Load

Min.

Ultimate Load

Weight

/Each

Handle

Length

Dimensions

in.




in

lbs

lbs

lbs

lbs

in

A

B

C

D

E

F

G

01362A

1/4-5/16

2200

4400

7800

3.60

11.42

20.66

18.70

15.35

11.42

8.85

8.85

0.35

01363A

5/16-3/8

5400

10800

19000

8.56

15.43

25.2

25.2

21.46

15.55

12.20

12.20

0.47

01364A

3/8-1/2

9200

184000

28000

12.38

17.24

28.15

28.70

24.61

17.52

13.58

13.58

0.59